Construction: Construction of embankment walls to prevent landslides.
Category: Supply – D500 reinforced concrete pile, SW600B pre-paid pile.
Location: Vina Offshore Wharf, Dong Xuyen Industrial Park, Rach Dua Ward, City. Vung Tau.
Construction unit: Le Thy Construction Company Limited.
Some construction images at the project "Vina Offshore Port Bridge Construction":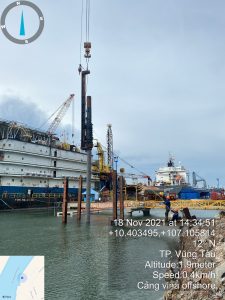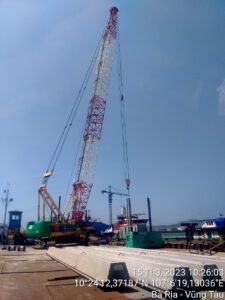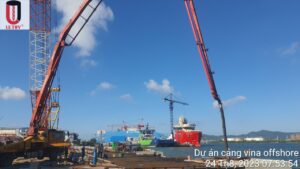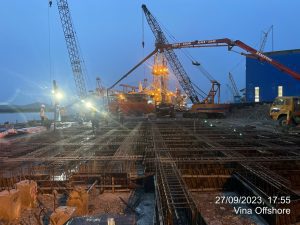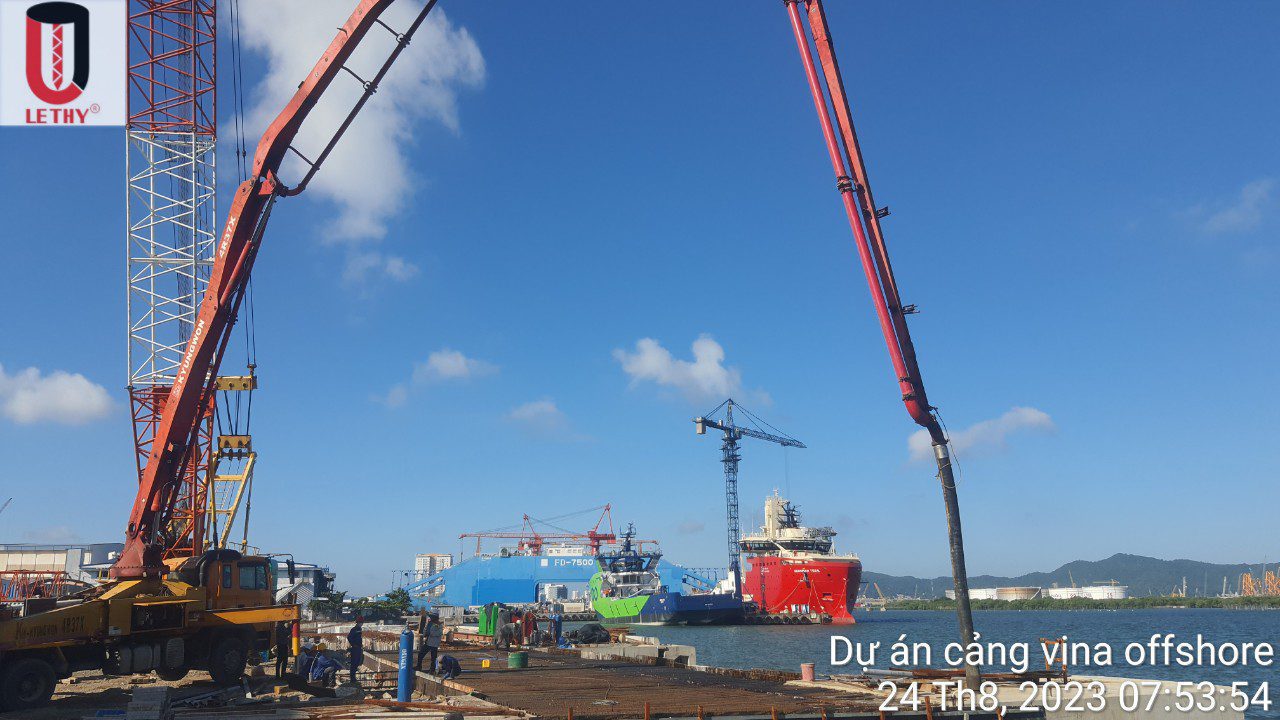 Vina Offshore Port
With a favorable location, Vina Offshore Port is an important sea traffic connection and logistics service provider for the maritime industry. Customers will enjoy the benefits of an advanced seaport, ensuring safety and quality, contributing to economic development and international trade in the region.
Anti-fall charge – Protect the shoreline
In order to ensure the safety and stability of port operations, we have implemented effective anti-slippery measures. Measures include the construction of a strong rock shore surface, the installation of a wave-proof construction system, and the implementation of special geosynthetic reinforcement methods. Thanks to these measures, Vina Offshore Port is able to withstand the impact of ocean waves and extreme environmental conditions.
Concrete pile driving – Increase stiffness
To ensure stability and good bearing capacity, we have carried out high quality concrete pile driving at Vina Offshore Port. Concrete piles are designed and built according to strict technical standards, ensuring high rigidity and load-carrying capacity. Through the piling process, we have created a solid and reliable foundation for our port operations.
Piling SW600B – High strength and stability
To increase the resistance and durability of the structures at the port, we used SW600B piles. SW600B pile is a kind of steel pile with outstanding properties in terms of stiffness, strength and stability. The use of SW600B pile enhances the bearing capacity and ensures the stability of construction works at Vina Offshore Port.
Le Thy Co., Ltd. is very honored to be entrusted by the investor of Vina Offshore Marine Mechanical Engineering Co., Ltd. with the task of constructing anti-landslide embankment walls upstream of Vina Offshore port, Dong Xuyen Industrial Park, Ba Ria – Vung Tau. With a team of experienced technicians and modern machinery and equipment, we are confident in completing the project on schedule and with the best quality.
Drilling for bored piles at MerryLand
Wind power plant project No. 5 - Ben Tre
Contact Info: